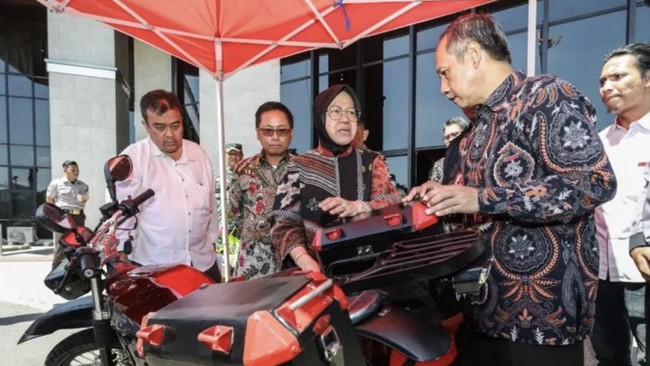 The Ministry of Social Affairs in cooperation with Telkom Institute of Technology Surabaya (ITTS) has developed an electric motorcycle which will be sent to Papua.
Social Minister Tri Rismaharini said that the development of this electric motorcycle is part of the effort to solve the transportation problems in Papua, especially for transporting goods in terrain that is still relatively difficult to traverse.
"This is why the motorcycle has room to contain goods, transporting them for the mountains, because it is very expensive there. That's why we have asked for an electric motorcycle that can be used to travel up and down the mountains in Papua. Fuel is difficult to obtain over there, so we use solar electricity," said Risma in Surabaya on Monday (22/5), as quoted by Antara.
Risma said that due to the technology using electric power, in innovating it, charging stations are also made to overcome the concern that the battery may run out when used to travel long distances.
"We will be installing them at several points, in several regencies, the first for the electric motorcycles will be in the mountains," she said.
ITTS Rector Tri Arief Sardjono said that the innovative electric motorcycle has the ability to carry a 200kg load on the back and can travel 60 to 70 km with fast charging of two to three hours.
"The difference is also that it uses a build-up, it doesn't use a chain anymore, so it is directly on the rim. Currently there is one unit, next we will have the second version," he said.
https://www.cnnindonesia.com/otomotif/20230522184628-603-952619/kemensos-buat-motor-listrik-untuk-papua-bisa-naik-turun-gunung